Good Afternoon,
In order to facilitate dredging in the Corpus Christi Ship Channel beacons 43 & 44 have been temporarily removed by the USCG. Due to navigational issues created by the removal of the beacons, the Aransas – Corpus Christi Pilots will restrict ship traffic to daylight only past the area. This restriction will not impede LaQuinta Channel or Ingleside vessels but will impact ship traffic going into or out of the inner harbor.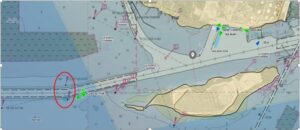 Harbor Master's Office
Port of Corpus Christi Authority
1305 N. Shoreline Blvd.
Corpus Christi, Texas 78401
Ph. 361-882-1773/1774